Rosie by Anne Lamott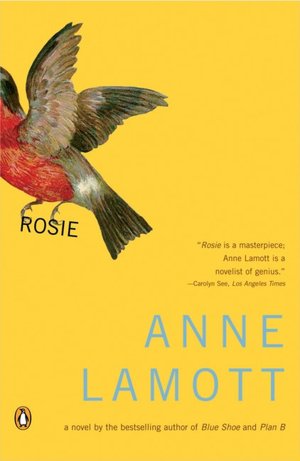 I just recently finished another beautiful novel by Anne Lamott. As I have mentioned before I love her writing for its honesty and purity. The story is about a paranoid mother, whose love for alcoholism is great, but never outgrows her love for her only daughter, Rosie.
The novel is surrounded by loss and misery and is highlighted with several moments of joy and love. Throughout the book, Elizabeth, Rosie's mother, continues her indulgence in alcohol and self-pity, but manages to raise a beautiful, curious daughter. Elizabeth is often neglectful and drunk and although she is lonely, she loathes the company of others. She hates to wear her heart on her sleeve.
In this novel, the reader will enjoy the directness of the heartaches and elation of motherhood. The characters are so real and their personalities so raw, it will feel as if they are more than acquaintances in your life.
I highly recommend this book, as I do with all of Anne Lamott's books. An exquisite novel!! What a joy it is to get to know the character of Rosie and her mother, Elizabeth!
sidenote: After posting on this, I just realized that this is the first book out of three about Rosie. Oh dear...I'm hooked. I better start saving for
Crooked Little Heart
and
Imperfect Birds
.