If you've been tracking with this blog, you may have seen me rave about Bethenny Frankel.
I LOVE, LOVE her.
I recently read Naturally Thin and learned quite a bit.
I love all her Skinnygirl products and she is definitely one of my favorite Housewife.
Back to the book...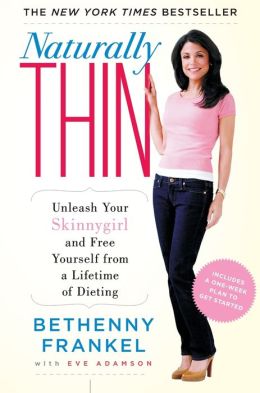 This was a WONDERFUL read. I really learned a lot. I definitely need to change my thoughts about the way I view food.
Some of my favorite advice was:
1. Always sit down to eat.
2. Eat slowly and enjoy your food.
3. Offer some of your food to others.
4. When eating out, have the server prepackage half your meal. Portion size at restaurants are TOO big.
Its definitely a different type of diet book. She does give you a two week snapshot of what she eats to show you more visually what she talks about in her book.
She doesn't endorse a certain diet, and is transparent about her unhealthy habits, but views eating healthy as a lifestyle. This is what I most appreciate.
I obviously won't eat like her as she is busy running a corporation, while I busy myself with running miles.
I NEED more food.
I've learned to accept that and not be upset with not fitting the mold of a "Skinnygirl" because I have to consume more calories for keeping my energy up.
Thats some of the best advice that I learned is to retrain my brain. Bethenny really focuses on that in this book. I know I have unhealthy thoughts about food.
Spend too much time calorie counting, which she is against, and never truly enjoy my meals.
I have definitely made a change, but I could use some accountability.
I give this book 5 out of 5 hearts!!
Got any advice for retraining your brain with its approach to food?

Follow Hurley Love on Bloglovin