This was a very interesting read. Definitely different from the other books on fitness.
But I seriously couldn't put it down
(well except when I had to return it to the library before I finished :)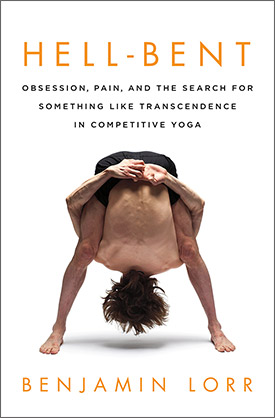 What could be more interesting than competitive yoga.
Yep, I said it Competitive Yoga?
Sounds like an oxymoron right?!
It kinda is. We believe that yoga is serious, serene, peaceful, rejuvenating.
But not intense, painful, rigid.
(so of you may:)
Lorr writes about this secret society of Backbenders that manipulate their bodies to do insane postures. They work religiously on their practice.
This book is mostly centered around the Bikram style of yoga.
Bikram is a very specific type of yoga. It is conducted in a 113 degree room (give or take a few degrees). It is 90 minutes of 26 postures.
I really enjoyed this portion of the book. Learning about Bikram and his type of yoga, his teaching, and his story.
I give this book a 4 out of 5 hearts.
A great read!! especially if you into yoga.