Dear Weather: Thank you so much for being so nice lately! What a blessing!!
Dear new house: I am so excited to get to see you this weekend. You are going to love us. I hate that you smell like a cat, but we can take care of that! I can't wait to decorate you and make you cute!
Dear old house: I'm sorry that we are leaving you! I promise it won't be painful! You have given us wonderful shelter the past 2 years. I love your fruit trees and will miss them greatly.
Dear Lilly: I love you so much! You are becoming so chatty! Thank you for letting me get in morning runs! I can't wait to be able to run with you and play with you at the park. I love that we have mid afternoon snoozes! You are a wonderful baby!!
Dear husband: It was a wonderful week as we were able to remember being married! I can't believe that we are also moving! Wow!! You work so hard and are such a wonderful man! I cherish every moment with you! I love how great of a father you are becoming! Fatherhood looks really handsome on you! Thank you for being my rock!!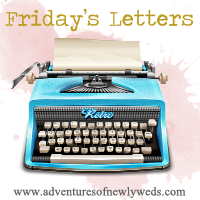 Who would you thank this week?