So now that you've decided to change your fitness/health, you're gonna need some accountability.
After reading this you may think I'm a bit of a nut. But I wanted to share my favorite fitness apps and why I've enjoyed them so much. I always puruse the App store hoping to find something new and exciting. Many of the times I try them out, but am not a fan of what they offer.
I do use the following three concurrently while on a run. They offer different things, as you'll find out and I can't help but enjoy all three.
Nike Running Plus
\
Pros:
This app is great for the competitor! You can challenge your friends, earn badges, and see how you stack up against your competition (your friends). This app provides a leaderboard, which ranks you and your friends for the month and week in both miles and times you ran. You can earn badges by doing different things (i.e., running on holidays, running a certain amount durring the month, etc). A new addition to this app is the Coach selection, which allows you to have a running plan, like a couch to 5k. I am currently doing the marathon one and so far I really appreciate it.
Cons:
The downside of this app is that it only tracks your running. Boo!
Map My Run/Map My Fitness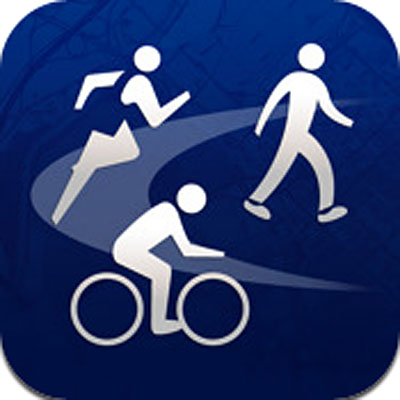 I actually have both of these apps on my phone but only use one during my runs. Usually its the Map My Run. I love this app because it allows you map all sorts of fitness: running, yoga, zumba, walking, etc. And with that it also allows you to categorize your runs/walk/fitness. For excmple, under run, you can choose: easy, interval, race, sprints. The new layout is also really spiffy providing a more 3 dimensional view of your GPS. You can also sign up for challenges, earn badges and personal bests.
Cons:
It doesn't provide me enough of the competitive edge that Nike Plus does. But this is one of my favorites because of all it offers.
Charity Miles
Just get this app!! It allows you to raise money for your charity of choice each time you bike, run, or walk. How can you not want this app. Free money for a charity. It's like I'm fundraising as I'm sweating. I LOVE IT!!
I've just recently starting going to yoga and received a gift card to a barre studio. This is a great app to schedule and make reservations at your local studio. However, the studio much have this booking system, but it is great. You can buy passes on this app and it keeps it in the system so that each time that you visit you don't have to enter your info. It will also sync with your calendar on your phone.
Argus is a great app as it tracks EVERYTHING. You can enter in your coffee, water, food, wine intake as well as your fitness. You can also record as you are running and walking. I like it because it tracks your steps and calories that you burn.
You can also set goals for drinking more water, walking more steps, getting more sleep. I lkie having goals...if you haven't noticed yet :)
Cons:
Sometimes it doesn't accurately count my steps or doesn't record my runs automatically as it says.
Who wouldn't like to workout and earn prizes! I hope no one. I know that there is the popular DietBet, but I like this better because you aren't losing anything, except fat, and you get to choose your prize each time you meet your goal. You can link up your Nike App, Map my Run, Run Keeper, and several others, so it will automatically give you points without having to feel like its another app you have to log things into.
Cassey Ho is amazing if you haven't tried any of her videos. My favorite is Applause Arms and Call Me Maybe Squats. I like this app because it's easier to navigate than YouTube where you can subscribe to her channel. She has categories for her recipes and workouts. It's great if you just want to fit in a quick workout.
If you struggle with accountability, this is the place to start. I LOVE Tone It Up!! They are wonderful women who started this grand adventure in fitness encouraging others and providing them with wonderful workouts that WORK! This has workouts, community chats, journal ability, as well as updates. Just a great overall fitness app that keeps you inspired to BURN!
How you enjoy and try one of these out. Which apps are at the top of your list?